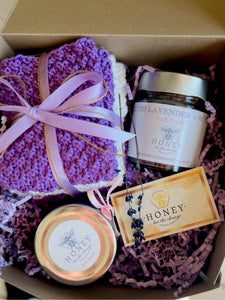 Something about lavender is just so calming. Totally obsessed with the colour this spring, and forever obsessed with the holistic benefits it offers over and over… and of course that aroma! Our lavender lady box includes:
1 french pink clay infused honey face mask
1 rose + lavender honey salt soak
3 luxury spa cloths in lavender/white 
 Packaged in a white box with beautiful lavender detail, and a dried sprig of lavender!
🤍💜